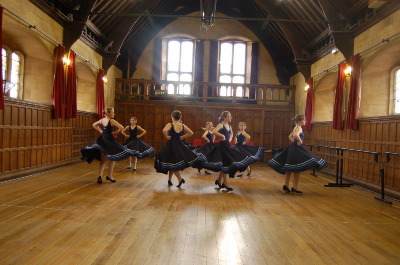 Welcome to the Sheila Price Dance School website

About us

The school was established in the 1950's by Mrs Hill. Upon her retirement the school was taken on by her daughter, Elizabeth Lewis (nee Hill). Mrs Lewis then retired in 2006, and the school was taken over by Sheila Price.

Sheila moved here from Kent after running her own school in Tonbridge for over twenty years. Many of Sheila's ex pupils are now in ballet companies and musical theatre productions and past pupils are now at full time ballet schools or Dance/Drama schools throughout the U.K.

Sheila teaches Classical Ballet in the Cotswolds using the Royal Academy of Dance syllabus. Sheila is a registered R.A.D. teacher and pupils are entered for R.A.D. Ballet examinations.

Beccy (Sheila's daughter) teaches R.A.D. Ballet and is also a qualified teacher with ISTD in both Modern and Tap Dance. She also has her P.G.C.E. and teaches English at senior school level.

Charlie Fleetwood (another of Sheila's daughters) joined us in 2017 and will be the new baby ballet and pre school dance teacher, taking all the weekday pre school ballet classes. She will also be the new school administrator.

For more details of Dance classes please see the Timetable page.

To apply for a place at the school please contact Sheila Price as follows:

Preferably by email: sheilapricedance@yahoo.co.uk

phone Sheila Price: 01451 870025 mobile:07707 149950

Other contacts:

Beccy: beccyseclark@gmail.com 07881 524028
Charlie:078899 955826